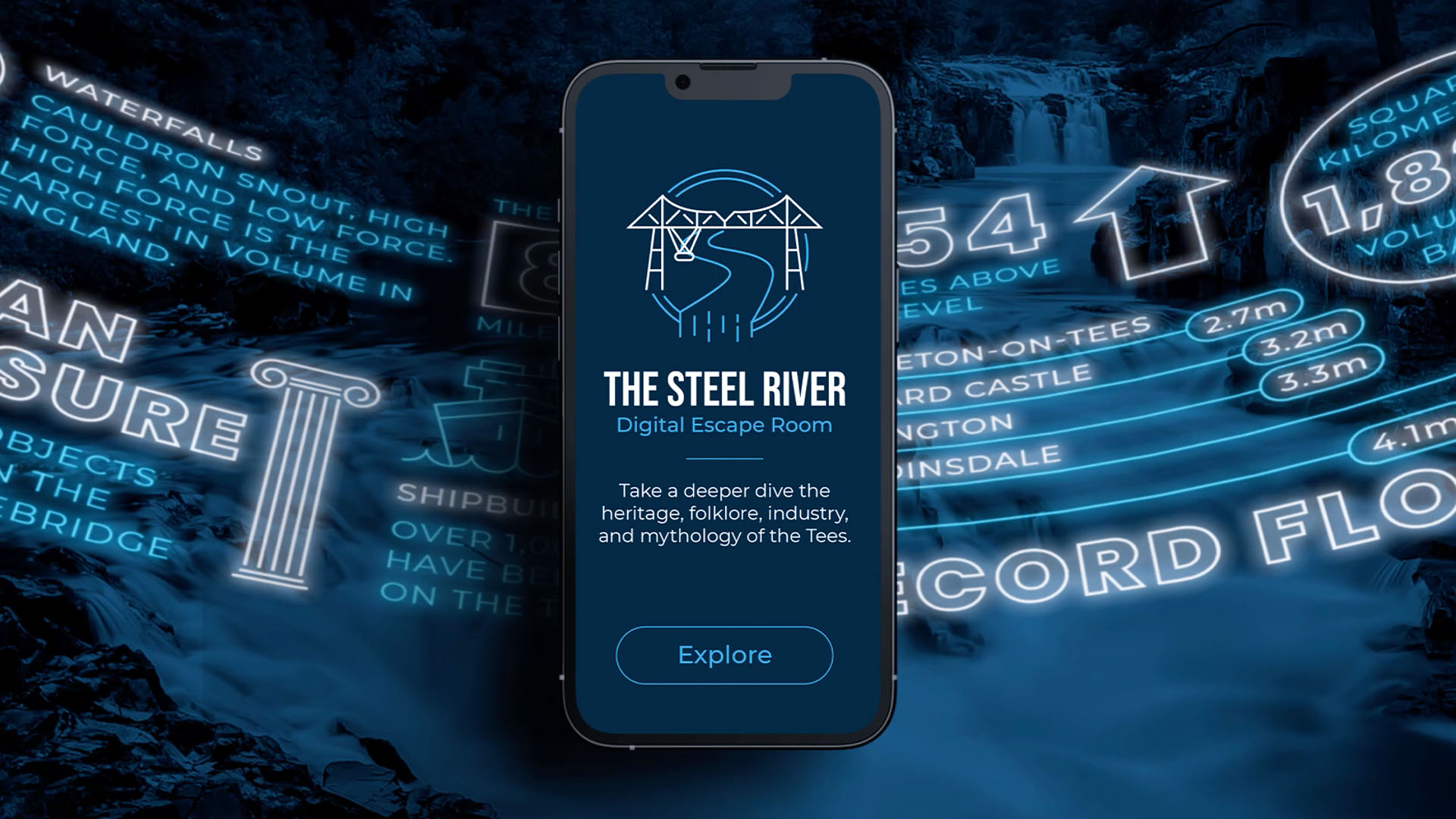 The Steel River: Digital Escape Room
Oct 18, 2022
The Steel River is a new digital escape room based on the River Tees, the lifeblood of my home town. It's the first game I've launched with the vision of showcasing regional history, heritage and folklore in a new immersive experience.
The game is the latest addition to the Huntee platform, a website/app that provides a range of real-world and augmented games to encourage people to head out and explore.
---
The Idea
I've been long-intrigued about the potential of a playable experience to explore specific real-world topics and locations. There is no shortage of interesting information (both historic and current) about most places in the UK – especially North Yorkshire where I'm based, but often this information is only accessible via traditional long-form formats.
Huntee, a long-term project of mine, is built on the same idea of making local history and heritage more accessible via games and augmented experiences. However, the existing trails on Huntee are real-word based and require players to travel to the specific locations to play the trails. A new play-at-home was required to take a deeper dive into larger topics, taking the form of a digital escape room to ratchet up the fun-factor.
---
How it works
The Steel River consists of five different scenes, each of which contains a series of questions, puzzles, and riddles players need to discover before they can progress.
The scenes use AR (augmented reality) to place the player in a 360-degree dome filled with graphics covering topics such as geography, history, folklore, and industry.
If a player gets stuck along the way they can simply 'auto-complete' the answer, though there is a corresponding time penalty.
---
How To Play
The Steel River will be available on the Huntee platform from October 2022. Simply head over to myhuntee.com, create a free account (it only takes a few seconds), then open the game.
There's no app download required. However, as Huntee is a progressive-web-app (which allows me to create a single game for both Android and iPhone users) you can add Huntee as an app if you'd prefer a full-screen experience, there is a popup explaining how to do this.
---
What's Next
The Steel River is the first digital escape room I've created with this vision. It's an ambitious project based on some experimental and growing technologies, which is the reason the initial launch has the 'beta' label attached. Beyond continually looking to tweak and improve The Steel River I'm aiming to create other digital escape rooms exploring a wide range of locations.
I'm incredibly grateful for the contributions, input, and resources provided by Tosh Warwick from Heritage Unlocked, the excellent team at Middlesbrough Museums, and the wordsmith contributions of my mum (where would we be without family ey') who've helped me to create The Steel River.
I'll admit it's been a far bigger project than I initially thought, and I hope people have as much fun playing it as I've had making it….